Keto Everything Bagels are so simple to make, fluffy, chewy texture, and incredible. My keto bagels recipe give you all the flavors of a classic bagel, without all the extra carbs. Sprinkle on Everything Seasoning for a savory take to these bagels.
Whether you are looking for a low carb bagel for your breakfast or to slice and make a sandwich out of, this recipe for the low carb keto everything bagels is where it is at. The best part of all, you can add as much or as little seasoning to fit your tastebuds. No yeast keto bagels are beyond simple to make.
The Best Keto Everything Bagels
Being on a keto diet, I have found we all have something in common. Bread is one area that many on a low carb diet tend to miss the most. So, coming up with a recipe to curb bread cravings was a must. I thought why not create a bagel with my favorite everything seasoning sprinkled on top. These low carb bagels turned out better than I imagined.
Craving More Keto Breakfast Recipes
What is Psyllium Husk Powder
Psyllium husk powder is a form of fiber which helps in lowering the carb count but also used to give your bagels a chewiness! I had gone through a few test batches before I found the right amount of powder to use to provide these bagels with the texture of a chewy bagel and to help prevent your bagels from cracking as they bake.
How Do You Make Keto Bagels
For this recipe, I started by warming the mozzarella and cream cheese in the microwave until it was fully melted and I could mix it.
Then I added in two eggs, almond flour, psyllium husk powder, baking powder, and garlic powder. Mix well and once the dough is well incorporated then set the dough out to begin separating.
Divide the dough into ten equal parts. Roll it out into a log shape and have it around 6 inches long. Then roll the dough into a bagel (circle) shape and lay on a parchment-lined baking sheet.
Then whisk up the last egg and brush your bagels. After that sprinkle your Everything But The Bagel Seasoning over the top of bagels and bake for 20 minutes or until golden brown and cooked through.
Toppings for Keto Bagels
Now, if you are not a fan of Everything Seasoning, don't worry! You can opt to leave off this seasoning and make plain bagels or find a different topping. Maybe you want a sprinkle of poppy seeds or sesame seeds. Go for it. You do not have to have the seasoning to make this recipe work.
Sesame Seeds
Poppyseeds
Rosemary, Basil, Thyme, Oregano (these all work well with bagel seasoning)
Sprinkle shredded cheese on top
Bake plain
Options are endless
How to Store Keto Bagels
I placed my leftover bagels in a bag and put them in the fridge. I removed as much air as I could and kept them chilled. Then when I wanted to eat one, I would toast in the toaster and then eat!
Can You Freeze Keto Everything Bagels
Yes. You can place them in an airtight container or freezer bag, and store in the freezer for up to three months. This is great for meal prepping on your Ketogenic diet. Just toss one in the fridge the night before and warm it up or grab and head out the door for a simple breakfast option.
If you forget to thaw the night before, warm up in the oven or microwave until slightly thawed and then toast or eat warmed.
Almond Flour Low Carb Bagels
The reason I reached for almond flour for my low carb bagels is that it helps with the texture of these bagels. The almond flour and baking powder combined give the bagel a light and fluffy texture. The psyllium adds chewiness, and together the ingredients make an incredible recipe!
I reach for super fine almond flour; I find that it helps offer a smoother texture to the bagels. If you use regular almond flour, you might notice a bit more grit texture. If you want super fine, you can run your regular almond flour through a food processor to help give it a smoother texture. Just a few pulses are all it needs. Work in small batches.
Give this keto bagel recipe today! It is our favorite bagel recipe, and I think you will enjoy it as well.
Have you tried a Keto Everything Bagel before?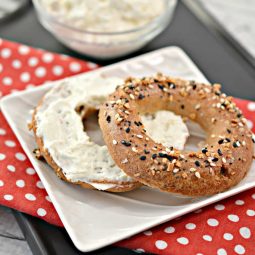 Keto Everything Bagels
Ingredients
3

cups

shredded mozzarella cheese

2

tablespoons

cream cheese

1 3/4

cup

almond flour

3

tablespoons

psyllium husk powder

1

tablespoon

baking powder

3

eggs divided

1

teaspoon

garlic powder

Everything But The Bagel Seasoning
Instructions
Start by preheating your oven to 350 degrees Fahrenheit. Line a baking sheet with parchment paper.

In a microwave safe bowl add your cream cheese and mozzarella. Microwave in 30-second increments until it is fully melted and you can mix it until combined.

Take your cheese mixture and place in a mixing bowl with your 2 eggs, almond flour, psyllium husk powder, baking powder, and garlic powder. Mix until well combined.

Divide dough into 10 equal sections and roll out into 6-inch logs. Then shape into circles with a hole in center and place on parchment paper baking sheet.

Then whisk the last egg and brush over the bagels. Then sprinkle on the Everything But The Bagel Seasoning over the bagels.

Bake for 20 minutes or until the bagels are golden and cooked through.
Nutrition
Serving:
1
g
Calories:
73
kcal
Carbohydrates:
2.4
g
Protein:
5
g
Fat:
4.8
g
Pin and share this recipe for later: