Low carb fried pickles is a tasty appetizer or side dish to pair with your lunch or dinner. Keto fried pickles are so addictive. Battered pickles in crunched up pork rinds and air fried to a crispy texture. Pair with a dipping sauce and dive in! Air Fryer fried pickles are a lighter version to traditional fried pickles.
I love making Keto friendly recipes using my Air Fryer; it makes food so crispy and delicious. This low carb fried pickles recipe is so yummy, actually better than a lot of fried pickles I have had at restaurants. It's an easy recipe too – great for a snack, appetizer, or group!
Low Carb Fried Pickles
If you want a fried pickle without all the grease, this keto fried pickle recipe made in the Air Fryer is for you. An Air Fryer uses hot air to circulate around the pickles that crisps up the batter to give it that fried texture but without any of the grease. This is one of our favorite keto Air Fryer recipes we have made to date.
Tips For Keto Fried Pickles in Air Fryer
Dry Pickles | Make sure you thoroughly dry your pickles. Without doing this step, your batter will not stick to the pickles; it will run right off.
Don't Let Pickles Touch Each Other | Make sure you cook in batches and leave space in between the pickles. If your pickles end up touching the batter will not cook up crispy, and it will leave your air fried pickles soggy.
What Kind Of Sauces Go With Fried Pickles
I personally made a homemade dipping sauce with vinegar, dill, sour cream, and garlic powder. It was outstanding to pair next to these fried pickles!
If you don't want to make your own dipping sauce, feel free to purchase whatever sauce you enjoy. Feel free to reach for a low carb option to stick to the low carb recipe.
What Are The Best Pickles For Fried Pickles
Personally, I reach for dill. I find it pairs nicely with the batter and dip. You might be able to reach for a spicy pickle and use that. I wouldn't recommend a sweet or bread and butter style pickle.
Can I Use Hamburger Sliced Pickles Over Spears
Yes, you can swap out sliced pickles for spears. Still, follow the system of drying them and then batter and bake.
How To Make Fried Pickles in Air Fryer:
Slice the twelve pickle spears in half the long way to make them thinner. Then using a paper towel dry them of excess moisture.
Using a food processor or the zip lock baggie method you want to process or crush the pork rinds until they are fine crumbs.
Next using a small bowl whisk the eggs together. Add the coconut flour to a second bowl. Place the finely crushed pork rinds in the third bowl.
Next coat the pickles in flour, dredge in egg, and finally cover in the fine pork rinds.
Place the pickles into air fryer basket, place them close together, but not touching.
Cook in the air fryer at 400 degrees Fahrenheit for 7 minutes.
For the dipping sauce: In a mixing bowl add the vinegar, dill, garlic powder, and sour cream and whisk until combined. 
Finally enjoy this ketogenic snack or appetizer!
Do Keto Fried Pickles Store Well
Unfortunately, with any "fried" style recipes, it will not store that well. These keto fried pickles taste best fresh. As the breading cools down, it can become soggy, and the juices from the pickles will help to sog up the batter on the outside.
Best Way To Reheat Fried Pickles
If you have leftovers, I recommend warming the pickles up in the oven. This will help to give your pickles a crispy crust instead of getting even soggier as it heats up in the microwave.
Air Fryer low carb fried pickles are a treat. We will make them here and there as a special treat. If you want to try something different, I highly recommend this low carb fried pickles recipe. This is one of our favorite low carb air fryer recipes!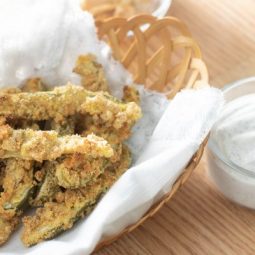 Low Carb Fried Pickles
Ingredients
Fried Pickles:

12

pickle spears

1

cup

coconut flour

2.5

ounces

pork rinds

2

large eggs

Sauce:

16

ounces

sour cream

1

tablespoon

dried dill

2

teaspoons

vinegar

2

teaspoons

garlic powder

½

teaspoon

pepper

1

teaspoon

salt
Instructions
Slice spears in half the long way, and dry slightly with tea cloth or paper towel.

In a small bowl, beat the eggs.

In a separate bowl add coconut flour.

Using a food processor or your hands, process + crush pork rinds until fine crumbs.

Add pork rind crumbs to a third bowl.

Cover pickles in flour, dredge in egg, then into pork rinds.

Lay pickles into air fryer basket.

Cook for 7 minutes at 400 degrees F.

For the sauce add vinegar, dill, garlic powder, and sour cream to a mixing bowl. Whisk until combined.
Nutrition
Serving:
4
g
Calories:
111
kcal
Carbohydrates:
3.5
g
Protein:
10
g
Fat:
6.2
g
More restaurant inspired Keto and Low carb recipes to try:
Pin this Keto and Low Carb recipe: