Serve up these keto garlic cheese biscuits as a side dish to your meal tonight. A warm, tender coconut flour biscuit, that fills that void of a bread-free diet. Low carb biscuits that taste incredible. If you are not a fan of fathead dough, try my keto biscuit recipe! I use coconut flour and a handful of other ingredients, for homemade keto garlic biscuits!
Biscuits are something we love in our home. Add in mozzarella cheese and garlic, and you have my whole family drooling. This biscuit recipe is so simple to whip up, you will be thankful you gave it a try.
Keto Garlic Cheese Biscuits
There is something about garlic in a biscuit that is just delicious. Serve with a zucchini noodle dish, side of chicken, or a keto pot roast. This biscuit recipe is so versatile and works with so many main dishes.
Why Do You Use Coconut Flour In These Keto Biscuits
Coconut flour offers a lighter texture to baked goods, compared to say almond flour. You will have a more tender and fluffy biscuit for using coconut flour. I feel like it doesn't get the attention it should when it comes to being used to bake low carb baked goods. Coconut flour biscuits are what I personally prefer.
Does Coconut Flour Have Coconut Taste
The coconut flour will offer a smell of coconut if you go and sniff it. The coconut flavor you find in the flour is very subtle. Once you mix it in and bake, it will blend nicely and not overpower any of the flavors you want in your baked goods. Is coconut flour good for Keto?
Is Coconut Flour Good For Keto
If you are low carb or keto, you will find coconut flour is a great flour to reach for when baking. The biggest thing to note is you have to learn to convert recipes over to using coconut flour. You can't just do 1 cup of coconut flour for 1 cup of all-purpose white flour. It is a learning curve to learn how to convert recipes, but after a while, you will get used to it.
More Keto Recipes Featuring Coconut Flour
Raspberry Muffins

| This recipe uses mainly almond flour but with some coconut flour. You will find the mixing of the two flours does wonders in terms of texture and flavor.

Fried Pickles

| Crispy coating, tangy and tender pickle on the inside. This fried pickle recipe is so easy, and a great appetizer or side for your weeknight meal.

Chocolate Donuts

| Who says you can't have a donut on a low carb or keto diet? Here is a homemade keto chocolate donut recipe, that is an absolute treat.
How To Make Keto Biscuits
Start by preheating the oven, and then line a baking sheet. Set it aside while you work on biscuit dough. Start by sifting all your dry ingredients, and then whisk until combined. Then in another bowl add in your wet ingredients, and mix until creamy. Now slowly mix in your wet and dry ingredients, and add in the cheese. Use a rubber spatula and mix until well combined.
Now wet your hands with water or oil so that you can work with the dough. Make seven balls and flatten them out a bit and lay on a baking sheet. Bake for 30 minutes or until your edges is golden. Then broil for two minutes to give them a golden brown look.
Allow to cool a bit then serve however you would like!
How To Store Leftover Keto Biscuits
Store any biscuits you don't eat right away in the fridge. They will last 3-4 days in the fridge before they need to be tossed out. Use your best judgment.
Best Way To Reheat Leftover Cheesy Keto Biscuits
I opt to warm them up in the oven or toaster oven. I find they hold their texture the best using either of these methods. Just warm up in the oven until they are heated through. Then add a dollop of butter or eat plain.
Can You Freeze Garlic Keto Biscuits
I don't see why you couldn't freeze these biscuits. I have not tried it but I am sure it would be fine. Just allow them to cool completely then transfer to a freezer-friendly container. Then store up to three months in the freezer. Thaw in the fridge the night before you plan to eat them.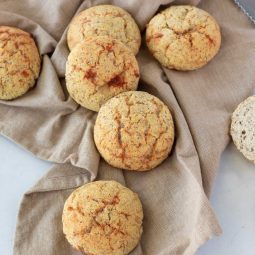 Keto Cheese Garlic Biscuits
Ingredients
1

cup

coconut flour

2

tbsp

psyllium husk powder

1/4

cup

flaxseed meal

1

tsp

baking powder

1/2

tsp

garlic powder

pinch of salt

5

eggs

1

cup

unsweetened almond milk

4

tbsp

melted butter

1

cup

shredded mozzarella cheese
Instructions
Preheat oven to 375 degrees Fahrenheit, and line your baking sheet with parchment paper.

Then in a bowl, you want to sift all your dry ingredients. Coconut flour, psyllium husk, flaxseed meal, garlic powder, salt, and baking powder. Mix till combined then set aside.


Next in a new bowl and mix your wet, eggs milk, and butter. Whisk until combined.


Then mix in the dry ingredients until the dough begins to form.

Wet your hands with water or oil and make 7 balls of the same size. Flatten them a little and place them on the parchment paper previously prepared.

Bake for 30 minutes or until the edges are golden, broil on high for 2 minutes, remove from the oven.


Allow the biscuits to cool for 10 minutes.
Nutrition
Serving:
1
g
Calories:
233
kcal
Carbohydrates:
11
g
Protein:
11
g
Fat:
16
g
Saturated Fat:
10
g
Cholesterol:
147
mg
Sodium:
287
mg
Potassium:
160
mg
Fiber:
8
g
Vitamin A:
478
IU
Calcium:
183
mg
Iron:
1
mg
Pin this recipe for later: