Here is a quick and easy keto version of the classic dish, Mediterranean Style Shrimps & Zucchini Noodles. The traditional recipe uses wheat pasta, butter, lemon, and garlic. I have replaced pasta with zucchini noodles to make it healthier and keto. I have also added some deliciously creamy Tahini sauce for a burst of flavor while retaining the essential ingredients like garlic, lemon, and butter.
You can always use store-bought spiralized zucchini noodles for this recipe. But you can easily make it at home, and you do not even need a spiralizer to create it. Additionally, it is much cheaper this way and tastes better too.
Now, you can find so many uses for zucchini noodles, apart from using it as a natural pasta substitute. I like to add them to my soups, salads, and even lasagna. So, how about you get hold of some zucchini and transform it into your favorite type of pasta. Let me tell you how!
How To Make Zucchini Noodles At Home
Transform Zucchini into "Pappardelle" noodles with a vegetable peeler
The only things you need to make zucchini noodles are fresh zucchini and your good vegetable peeler. Simply peel off thin even-sized strips of zucchini, and you will end up with delicious pappardelle-sized noodles, or rather zoodles which you can use in zucchini pasta. This method works best with larger squashes.
Now, let's cook the zoodles or Zucchini noodles
No cooking needed method: If you prefer your pasta al-dente, skip cooking the zucchini noodles altogether. Pour a warm sauce over the noodles. It will gently heat the noodles but leave a nice bite.
Or maybe a quick sauté method would do: If you like sautéed vegetables in your pasta, start with cooking the vegetables. Add zucchini noodles into the pan when the vegetables are just about done. Gently toss it with the vegetables and sauce over medium heat for a few seconds. Take it off the heat before it becomes too soft.
Leftovers?
Don't toss any of the leftover bits. Add these scraps to soups, smoothies, or hummus and blend them in to make the most of their nutritive goodness.
Can I Make Zucchini Noodles In Advance And Freeze Them?
Why should you make it in advance when it takes only a few minutes to prepare them fresh? Plus, freezing zucchini noodles spoils their flavor and texture.
I highly recommend preparing it fresh. However, if you still wish to do so, place cooked zucchini noodles into individual serving-sized storage bags in the freezer until ready to serve. Press them into one flat layer for easier reheating.
When ready to eat, steam the frozen noodles for 3-4 minutes in a pan, covered.
Will Any Other Vegetables Work Instead Of Zucchini?
Yellow squash works just as well.
Now, Getting Back To Shrimps And Zucchini Noodles
Once your zucchini noodles are ready, you can get on with the rest of the recipe.
Preheat large skillet or pan on medium-low. Melt butter and oil.
Now, add shallots and cook them till soft. Then, add garlic and continue cooking for 15 seconds.
Once the garlic loses its raw smell, add shrimp, sea salt, smoked paprika, and fine black pepper into the pan. Sauté well till the shrimp is cooked but hasn't lost its translucent color. Don't worry if you see that they are raw inside; you will finish them later with sauce.
At this stage, pour the chicken broth and lemon juice into the skillet. Wait till it boils and then continue to cook for about 3 minutes. The shrimp should be completely opaque and cooked thoroughly. Remove the shrimps from the skillet, and set them aside.
It is now time to cook the noodles. Using the same skillet with leftover sauce (don't wash it), stir in the zucchini noodles and fresh herbs. Gently toss all the ingredients together. It should have warmed through without losing its bite.
For the creamy Tahini sauce:
In a medium bowl, mix Tahni paste with freshly minced garlic, lemon juice, salt, pepper, Dijon mustard, and a little water.
Serve this zesty, garlicky sauce drizzled over shrimps and zucchini noodles, and enjoy those bursting Mediterranean flavors! And, your healthy, yummy keto dinner is ready!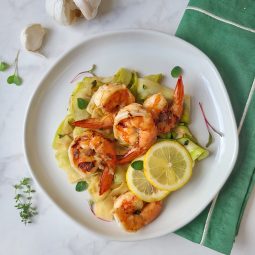 KETO Mediterranean Style Shrimps Zucchini Noodles
This easy, hassle-free Mediterranean Style Shrimps & Zucchini Noodles recipe is low carb, paleo, gluten-free, and keto because we have replaced the pasta with zucchini noodles. Try this healthy and flavorful recipe, and I am sure that it will be a regular on your menu.
Ingredients
Tahini Sauce
2

tbsp

tahini

2

minced garlic cloves

2

tsp

lemon juice

1

tsp

dijon mustard

pinch fine sea salt

pinch fine black pepper

1

tbsp

water
Shrimps & Zucchini Noodles
2

medium zucchini

2

large shallots

4

garlic cloves

1

tbsp

butter

1

tbsp

olive oil

8

oz

large raw peeled shrimp 

1

tsp

fine sea salt

1

tsp

smoked paprika

¼

tsp

fine black pepper

½

cup

chicken broth

¼

cup

lemon juice

1

tbsp

minced fresh basil

2

tsp

minced fresh oregano

2

tbsp

grated parmesan cheese
Instructions
Make The Tahini Sauce
In a small bowl, combine the sauce ingredients then set aside.
Shrimps & Zucchini Noodles
Using a regular vegetable peeler simply peel thin strips of zucchinis.

Dice the shallots into very fine into small pieces. Mince the garlic cloves.

In a medium skillet, heat oil and butter over medium-low heat. Add diced shallots, and cook them for 1 minute. They should become soft and translucent.

Mix in garlic, and cook for 20 seconds only.

Next, add shrimp, salt, smoked paprika, and black pepper into the pan. Mix well, and cook shrimps for 30 seconds on each side, a total of 1 minute. Don't cook them completely as they should still have grayish translucent color.

Add heat to medium, and gently pour the chicken broth with lemon juice into the pan. Bring to boil, and cook for 3 more minutes. Then remove the shrimps from the heat. Now they must be orange in color and ready to eat. Remove the shrimps without the sauce from the pan. Set them aside, covered.

Place zucchini noodles in the same pan with leftover sauce. Sprinkle them with herbs, and gently stir. Reduce the heat to medium-low, and cook noodles for 1 minute, or until just warmed through. Don't overcook them. The zucchini noodles should be slightly crunchy with a tender bite. 
Serving
Serve the zucchini noodles topped with shrimps, sprinkled with freshly grated Parmesan cheese, and drizzled with Tahini sauce

Enjoy that amazing keto-friendly Mediterranean Style Shrimps & Zucchini Noodles any day of the week as it's effortless to prepare!
Nutrition
Serving: 1 Calories: 535 Carbohydrates: 15g Fiber: 3.5g Net Carbohydrates: 11.5g Protein: 20g Fat: 17g Vitamin A: 24% Vitamin C: 32% Calcium: 44% Iron: 41%