Loaded Cauliflower Casserole is one outstanding side dish that is going to dress up your mealtime. My keto cauliflower casserole is easy to prep, and a great replacement to starchy potatoes. If you are on the hunt for a low carb cauliflower casserole give this recipe a whirl. A "potato-Esque" that will curb those cravings.
I have been craving this casserole for a while, and I finally sat down to make it. I wanted to share this cauliflower cheese casserole with you all. It is great for weeknight meals, potluck events, and even the holidays. There is no wrong time to make this tasty cauliflower recipe.
Loaded Cauliflower Casserole
The bacon in this recipe adds such a savory aspect to the dish. My whole family enjoys this, and even guests I have served it up to. Give this cauliflower casserole recipe a try, and let me know what you think.
Can I Use Cauliflower Rice In Replace of Florets
Sure. It will offer a different texture, but I think it would still work. You could also do cauliflower mash for a creamier dish option. I actually like the broken up florets; I do them smaller at times to allow it to have a smoother texture.
Can I Use Ham Instead of Bacon In Keto Cauliflower Casserole
Sure. You could dice up ham and cook it up until it is a little brown. Then follow the directions accordingly and assemble the dish as directed. You could even use up leftover holiday ham this way; it is a great option.
Does Cheesy Cauliflower Casserole Freeze Well 
When working with dairy, you can run into issues. Dairy can curdle a bit during the thawing process once it has been frozen. If you do freeze it, you might just need to give it a good stir and then finish reheating the dish to help re-incorporate the cheese and dairy in the dish. 
Even though the texture will slightly change the flavor will still be pretty tasty. 
How Do You Make Loaded Cauliflower Casserole Recipe
You will be shocked at how easy this recipe is. Start by cooking your diced bacon in the skillet. Then once your bacon begins to get close to being done, you toss in your garlic and allow it to become aromatic. Then pour in your cream cheese, heavy cream, and cheddar cheese and mix until it is fully melted and blended. 
Remove the pan from the heat, add in the cut-up florets, and stir and put in the oven — Bake for 30 minutes or until golden brown on top and bubbly. 
A quick video of how to make this easy loaded cauliflower casserole:
 What If I Don't Have An Oven Safe Skillet 
If you don't have an oven-safe skillet, you can still make this dish. Instead of cooking the mixture in the skillet, you can transfer into a baking dish. Just grease the pan and then pour all the mixture into the pan and bake the same way. Just ensure the oven is preheated fully before tossing in.
How To Store Leftover Keto Casserole 
You will want to cover pan or transfer into an airtight container. Store in the fridge for up to 3-4 days. After that, you will want to use your judgment as to the quality of the dish. 
Best Way To Reheat Cauliflower Casserole 
I will either toss leftovers in the microwave or place back in the oven to reheat that way. If I cook in the oven, I cover with aluminum foil. This helps to keep the moisture in the dish and won't dry it out as much as it reheats. It will take longer to warm up being cooked covered thoroughly. I generally reheat at 350 degrees. 
On The Hunt For More Keto Recipes 
Keto Taco Casserole

| This taco casserole is incredible. Tex-Mex flavors in every single bite, savory, and downright addictive. The whole family loved this recipe. 

Zucchini Pizza Crust

| This pizza crust is such a good one. Light, crispy, and top with all your favorite go-to pizza toppings. Helps to curb those pizza cravings. 

Keto Roasted Vegetables

| Here is a great side dish to give a whirl. If you are looking for ways to change up your side dishes, or want a meatless option, here you go. 
Give this keto side dish recipe a try and let me know how you like it. We love cauliflower, and it is a creative way to serve it up.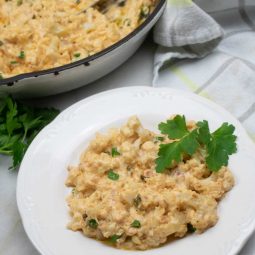 Loaded Cauliflower Casserole
Ingredients
1

head cauliflower

chopped into florets

½

cup

chopped bacon

2

cloves

garlic

pressed or minced

8

ounces

cream cheese

1

cup

heavy cream

1 ½

cups

cheddar cheese

½

teaspoon

salt

½

teaspoon

paprika

½

teaspoon

black pepper
Instructions
Preheat oven to 350 degrees Fahrenheit.

Chop the head of cauliflower into florets and set aside.

Cook bacon in an oven-safe skillet on stovetop over medium heat. When the bacon is starts to

crisp, add in garlic and continue to cook for another couple minutes.

Add in cream cheese, heavy cream and cheddar cheese and mix together until mixture has

melted.

Remove from heat.

Add the cauliflower florets to the cheesy mixture, stir to combine.

Bake for 30 minutes.
Nutrition
Calories:
467
kcal
Carbohydrates:
5.5
g
Protein:
20.9
g
Fat:
40.6
g
Fiber:
1.6
g
Pin this recipe for later: