Serve up these raspberry keto muffins for breakfast or a snack this week. These keto breakfast muffins have saved the day on those busy weekdays I don't have time to sit down and cook breakfast. Low carb muffins with almond flour and coconut flour for the perfect light and airy muffin that is bursting with fresh raspberry flavor.
Make these for parties, family gatherings, brunches, or to kickstart your day through the week. Rasberry keto muffins make the perfect summer muffin recipe! Keto friendly, sugar-free, and gluten-free!
Keto Muffins
You don't have to sacrifice bread, muffins, quick breads, and more. You just learn how to adapt a recipe to make it fit your Ketogenic dietary needs. I created a recipe that leaves you wanting more, without making you feel like you are missing out on a real muffin.
Enjoy More Ways To Kickstart Your Mornings
Sugar-Free Low Carb Muffins
I use erythritol to add sweetness to these sugar-free, low carb muffins. It gives them the sweet factor you want without the empty carbs. The chopped raspberries throughout also add in natural sweetness in every single bite.
Why Do You Chop The Raspberries In The Muffins
I have found that chopping up the raspberries allows you to get more raspberry flavor in every single bite, vs. just a plain muffin bite here, and a raspberry bite there. Chopping it ensures you have tons of that fresh fruit flavor in every single delicious bite.
How To Store Rasberry Keto Muffins
The best way to store your raspberry keto muffins is to place them in an airtight container and then place a paper towel over the top of them and close the lid. By doing this, you will allow the paper towel to absorb extra moisture that is released in the muffins. This will help your muffins stay fresh without becoming soggy.
What Is A Good Substitute For Erythritol
I have been asked if you can swap out erythritol in the recipe for another sweetener. The answer is yes, but it is slightly complicated. With each sweetener, you will find they require less or more in terms of measuring. So if you were to swap in stevia, you would have to figure out the proper measurement adjustment. Stevia is a lot sweeter than erythritol so you wouldn't want to put in 1/2 cup.
So you can swap for another keto friendly sweetener, just make sure you convert to the proper measurement when you use
How To Make Raspberry Keto Muffins
First, you want to start by preheating your oven, and adding liners into your muffin tin.
Then in a bowl add in your almond flour, coconut flour, baking powder, and erythritol. Then mix the ingredients until blended.
Next in a new bowl add in your wet ingredients, the eggs, butter, vanilla, almond milk and beat on high for two minutes, or use a whisk.
Now you want to combine your wet and dry together and mix until just combined. Then fold in your chopped raspberries.
Fill liners about 3/4 the way full and bake for 20-25 minutes. When done allow to cool on a cooling rack.
Why Are My Low Carb Muffins Heavy
Overmixing can leave your muffins heavy and dense. That is why when you go to combine the wet and dry, you want to mix it, until it is combined gently. If you go to whipping it up, it can leave your muffins feeling heavy and flat.
What Is The Best Low Carb Flour For Baking
I have personally found for this recipe, in particular, the mix of coconut flour and almond flour works wonderfully. It gives you a light, moist muffin in the end. Most of the times, you will see people reaching for almond flour or coconut flour when they use it for baking low carb desserts.
Can You Freeze Keto Muffins
You can freeze these muffins. Just allow them to cool completely and then place in an airtight container and place in the freezer for up to three months. Thaw in the fridge and then enjoy. If you like your muffins warm, pop one or however many in the microwave and let it warm up, so it tastes like a muffin fresh from the oven!
What is your favorite keto muffin flavor?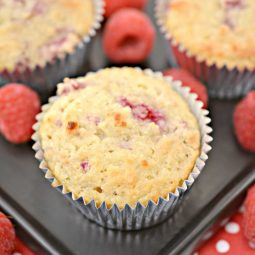 Keto Raspberry Muffins
Ingredients
2

cups

almond flour

2

tablespoons

coconut flour

1/2

cup

erythritol

5

eggs

beaten

3

tablespoons

unsweetened vanilla almond milk

2

teaspoons

baking powder

2

tablespoons

melted unsalted butter

1

teaspoon

vanilla

1/2

cup

chopped raspberries
Instructions
Preheat your oven to 350 degrees Fahrenheit. Then take your muffin tin and add in liners and set aside.

Next in a bowl, you want to add in all your dry ingredients - coconut and almond flours, erythritol, and baking powder. Mix until combined and set aside.

Then in a new bowl, add in your wet ingredients - eggs, butter, vanilla, and almond milk. Beat on high for two minutes or use a whisk to whip it really well.

Now you want to add your dry ingredients to the wet, and mix until both the dry and wet are combined.

Fold in your chopped raspberries.

Add the batter to lined muffin tins about 3/4 the way full.

Bake for 20-25 minutes or until the muffins are cooked through.
Nutrition
Calories:
43
kcal
Carbohydrates:
7
g
Protein:
1.9
g
Fat:
3.1
g
Fiber:
0.9
g
Pin this recipe for later: